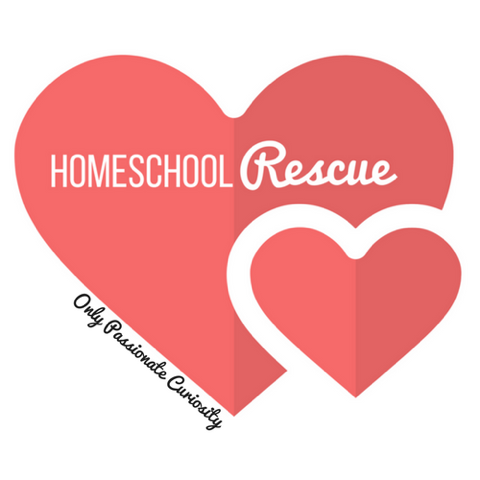 Homeschooling is not always as easy as you see in the pictures. We had a chance to review a product recently that can help you work through challenges that you are facing,
Homeschool Rescue
from
Only Passionate Curiosity.
Many people go to the weekend long homeschool conventions to get inspiration, find new curriculum and meet other families. But I just do not have the ability to do that. Due to various reasons, I have chosen to only do a few online homeschool events over the last 8 years of our homeschool adventures. I'm not saying homeschool conventions are bad, because those who love to go, it really helps them. But sometimes moms that can't go need a little encouragement from where they are at. Maybe they cannot travel far due to expense or childcare. Homeschool Rescue is an encouragement to those homeschool families that may have reached a wall in their homeschooling and feeling frustrated. It could range from personal struggles to educational difficulties.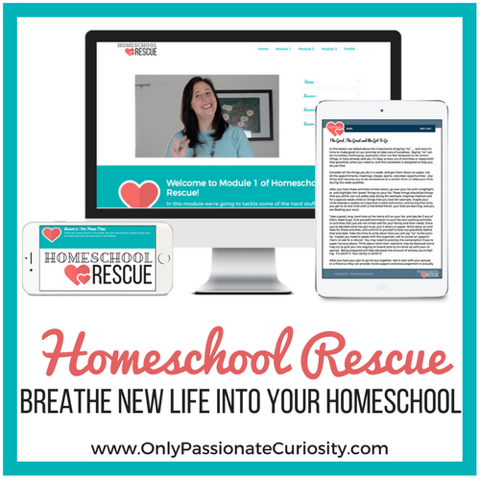 Homeschool Rescue
provides families with a video course that encourages them through the many struggles that we face as homeschoolers and how to organize ourselves better.
It is broken down into 5 different modules that tackles topics that range from finding the red flags that you may be feeling overwhelmed, common homeschooling struggles, tackling learning styles, homeschooling with special circumstances, weekly schedules and routines, time management, declutter, organization, planning a year, curriculum planning, following-thru, and study skills. There are a total of 20 lessons broken down into these 5 modules.
On top of the video instruction, there are downloadable resources, such as note pages to use while you are watching the videos. There are also homework assignments to go with each module. Heather gives you a chance to apply what you are watching in your homes, and also sit down and help you make a list of the areas where you are struggling and how to tackle those issues. It different when you see it written down on paper.
The video interface is very easy to use. You simply click on each Module as you go along. The screen is simple to just click and start/pause as you watch. Next to the video you will find the download buttons for note sheets that you could print out.
The note pages are easy to download and print out.
Each module also includes extra resource links. Which are also easily downloadable, and in the first Module this is where I found a full list of Homeschool Facebook groups, some of which I didn't know existed. There is also a Facebook page specifically for homeschool parents using the Homeschool Rescue program.
Each video ranges from 10 to 20 minutes. So you could easily wake up a little earlier to watch a lesson everyday or maybe at lunch time or when the kids are on break. They are not time-consuming, and they do not require a lot of work. I found that I could listen to a video when I first got up in the morning, and then I was able to think about what I listened to all day. It made me think about what I had listened to while I was tackling my day.
You can finish this course in roughly 2 months, depending on each lesson and where you are struggling the most in your homeschool.
I think my favorite part of
Homeschool Rescue
is that I am able to do this all from my couch, porch, or patio, basically anywhere I want. I'm not required to find childcare for my kids and travel a distance to listen to this type of homeschool encouragement....it's all done from my own comfort zone.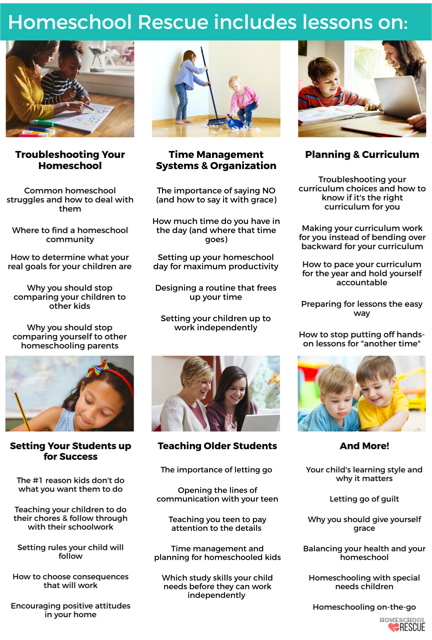 The cost for
Homeschool Rescue is $97.00
. That gives you lifetime access to the videos and printables. This is way less than a night in a hotel. So I consider it a great value, and one that I can justify since I can use this program repeatedly for reminders when I'm feeling overwhelmed.
Thank you Heather for creating a program that gives overwhelmed parents a renewed sense that they truly can do such an important work and helping us all to rebuild our confidence in this negative world. And giving us this opportunity without driving for hours and adding even more stress to our lives!
Several members of the
Homeschool Review Crew
were given the opportunity to try out
Homeschool Rescue
. See how they used this program in their homes and how they enjoyed it.