Famed radio show host, Rush Limbaugh took on the challenge of writing a book series that taught true American History. He had complained for years to his wife about the current history textbooks that students were using and how kids really were not learning the truth about what happened in the history of America. His wife challenged him to write a kids American History book series. He took that challenge head-on and with her help, they Adventure of Rush Revere series was born.
We received these high quality hardcover chapter books through USPS and they were neatly wrapped in a blue ribbon. The dust jackets were bright and glossy, and the art was appealing. It was comical enough to catch a kids attention.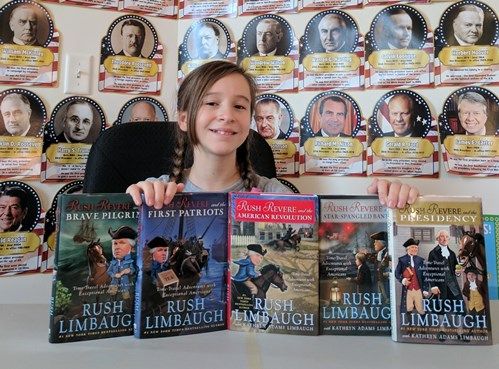 The pages of the books are made with a glossy, thicker paper which are very easy to read. It has an antiqued look to them. I really like these pages. They were easy to read and did not bend easily like most kids books.
The Adventure of Rush Revere series was written at approximately a 4th grade through 7th grade comprehension level.
Joey started the series first, since he was going through his American History Review from our previous study over the past couple years. Our kids are really into time travel television shows right now. So I thought this series would be great for him.
We started with Book 1 - Rush Revere and the Brave Pilgrims: Time-Travel Adventures with Exceptional Americans ($19.99). This is the beginning where you meet Rush Revere and his faithful sidekick, Liberty. This time-traveling duo can flash in and out of any part of history they would like. In the very beginning of the book, Rush and Liberty land on the actual Mayflower and Rush become extremely seasick. They are able to transport off the Mayflower and back to the present time.
I wondered how this was going to continue, and then as we read on, we were introduced how Rush Revere is a history teacher. He wants to make history fun for kids to learn. So we are introduced to his substitute history class, where we meet the skeptical students of his classroom. With the use of a camera, Rush is able to take his students to the year of 1620 into England. He meets William Penn and lives the life of the Pilgrims.
The story was fun and brought history into the modern age. Kids in the age of technology get bored easily with textbooks, and Rush Revere time-traveling between all of these historical dates and using technology to show what life was like kept Joey's attention. It is definitely not the older Charlotte Mason style storybooks that drive Joey crazy and bore him to death. He really enjoyed reading
Book 1 -
Rush Revere and the Brave Pilgrims: Time-Travel Adventures with Exceptional Americans.
But this is only Book 1 in the series. Currently the Limbaugh's have a total of five books available. I spoke about book 1 in the previous paragraphs, but there are also:
Book 2- Rush Revere and the First Patriots: Time-Travel Adventures with Exceptional Americans. ($19.99)
In this book your child will learn about the first Patriots and the beginning of the upheaval in the colonies that brought on their Declaration of Independence. Rush Revere's introduces your student to Samuel Adams, Paul Revere (his hero), Patrick Henry and he even travels to meet King George III. Tommy, Freedom and Cam keep traveling along with Rush in the adventures, and they definitely know that history is not boring!! We are making our way through this volume right now. I'm learning new things that I never learned in history textbooks in school.
Book 3 - Rush Revere and the American Revolution: Time-Travel Adventures with Exceptional Americans ($19.99)
In this volume, Rush, Liberty and the students from Manchester Middle School have entered into the American Revolution. They have met the patriots in Book 2 and now they are in the middle of the war for independence. The group continues to meet "new" people of history, and this even includes George Washington!
Book 4 - Rush Revere and the Star Spangled Banner: Time-Travel Adventures with Exceptional Americans ($19.99)
In this volume, the group travel to Washington D.C. to visit national landmarks. They travel back in time to the War of 1812. The kids get to see the saving of important national treasures such as the portrait of George Washington by Dolley Madison and even the Star-Spangled Banner.
Book 5 - Rush Revere and the Presidency: Time-Travel Adventures with Exceptional Americans ($19.99)
In this volume, the group is introduced to how the American government run. They learn about early elections, presidential leadership, and Rush faces his old nemesis in this story full of twists and adventures. The group meets new presidents and are introduced to first ladies. (I personally can't wait to get to this one... I may skip ahead and read this one next.)
To be honest, I was truly worried about some political agenda when I first saw these books. I mean we are in the age of everyone trying to influence you to think like them and have their views. And with the author being a very political individual, it had me concerned. But I read ZERO political commentary and no hidden agenda. This series is seriously just about making sure kids truly know American History.
If you haven't checked it this series yet, please put it on your history reading list. The
Adventures of Rush Revere has been fun and I can't wait to make our way through the whole series.



Several members of the Homeschool Review Crew were given the opportunity to review

Adventures of Rush Revere published by Adventures of Rush Revere #1 New York Times Bestselling Book Series by Rush and Kathryn Adams Limbaugh. Click the banner below to visit the Homeschool Review Crew site and see how they used this series in their homes.