One of our greatest responsibilities as parents is to prepare our kids for the world of adulthood. We recently had the opportunity to review a book from
Apologia Educational Ministries
,
Internship for High School Credit
, that can help parents at least in one area of training.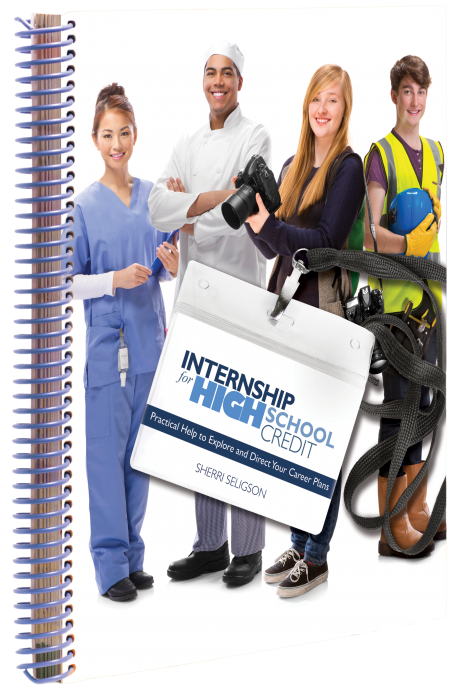 We have been struggling with Joey and finding his career path. Due to his various disabilities, we have had several road blocks placed in front of us. Some we can easily climb over and continue on our journey, while others present obstacles we just can't climb over. I want him to have as many choices as possible, and so we have been trying to find opportunities for him in areas of his interests. So
Internship for High School Credit ($33.00)
was definitely something i wanted to dig into.
The purpose of this program is to give both students and parents the skills needed so that their child can obtain an internship in a career field of their choice. Now most people might scream...."Internship?? That means I won't be getting paid. I want paid for my work." But logically speaking, if a student can get in on an internship while in high school, before they have bills and excessive responsibilities, they most likely do not NEED the money. But instead they are gaining valuable experience and learning skills that will only help them in the future, and may even be able to cut down on or eliminate student loan debt.
Internship for High School Credit
is broken down into 5 sections that can be done at your own speed and pace. It can easily be spread out over a full "school" year if that is what your family choses. Some sections contain worksheets that forces your child to really look at what they would like to do after graduation.
In Section 1 students are introduced to important job skills like cover letters, resumes, and job interviews. Believe me, a few years ago when I was in a management position, I wish more students knew how to interview and had basic skills to fill out even job applications properly. It also asks your students to list their interests and do some legwork to make sure they are not trying to "not apply" for a job that is filled.
Section 2 reminds parents of various laws to look at and keep your student legal in the workplace. It also introduces them to the ability to get credits for working.
Section 3 & 4 provides worksheets and encourages your student to keep a timeline of their experiences. Mixed throughout the pages are work/employment tips for your student to keep in mind that are very important.
By Section 5, your student is being taught how to end their internship on a positive note, and even get a letter of recommendation from the person they are working with for their resume.
I really like the simplicity of Internship for High School Credit. The way that it is written, it's not overwhelming for your student to use independently. It is definitely written for a high school student, but I have a soon-to-be middle schooler that has been volunteering at the horse stable where she rides. I am going to get a copy for her to start tracking all of her work experience and what she is learning while she is there. What a great way to track all of the important life skills that she is learning.
If you have a high school student that you are encouraging to start seeking out their future profession, I highly recommend getting
Internship for High School Credit
. There are great reminders that we may have forgotten about for career training. It is definitely not just a workbook, but a career curriculum. I really wish I would have had this 6 months ago when Lydia started volunteering. What a record of experiences she would have had already filled up.
As Joey has started his volunteer programs this summer, and we had started all the information, we'll continue to fill in his notes from each job. Then when summer is over, we can sit down and talk about the pros and the cons of the jobs he had this summer and what path he would like to try next or if he thinks he is already on a good path.
Be sure to put
Internship for High School Credit
on your curriculum list for a must have High School book!
Several members of the Homeschool Review Crew were given the opportunity to try out options from
Apologia Educational Ministries
, including
Internship for High School Credit
and
How to Homeschool with Stunning Confidence, Contagious Joy, and Amazing Focus
. Click the link below to see how they use these Apologia products in their homes.