I was actually very excited to get a chance to review the online high school Fascinating Biology program from Fascinating Education. I have been looking for a little extra help lately. With two boys in high school, the thought of teaching two levels of high school science was freaking me out!

Fascinating Education
approaches science not from the textbook approach, but from a visual approach. Each easy to read slide is read to the child that makes learning easier for those right-brain kiddos (and adults). The slides are brightly illustrated to keep their attention also.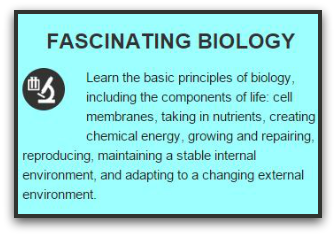 Unlike other science curriculums,

Fascinating Education

doesn't assume you have had previous

Biology coursework

(or

Chemistry & Physics). It is set up as if the child knows nothing of this subject.
Fascinating Education
takes them through a subject as slow or as fast as they need to go. If it is a topic that he can work through easily, he can move through it quickly. But if he is struggling, then we can move through it more slowly.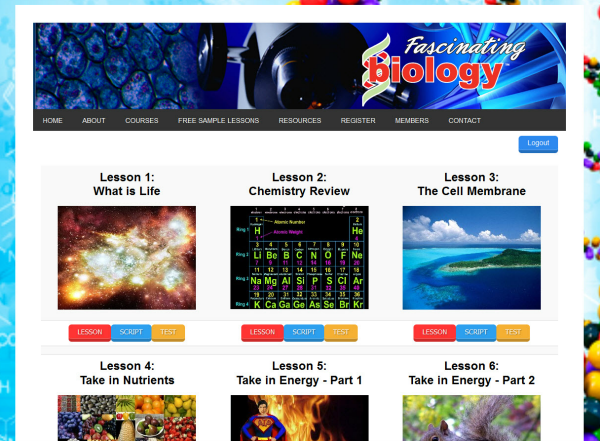 Brayden is a visual learner, but not a strong reader. But Fascinating Education Biology has kept his eyes focused where they needed to be and he has been progressing at grade level through his biology.
There are 19 lessons in the Biology course. They range from the building blocks of life to learning how we adapt to our environment. The age range for the Fascinating Education Biology course is from middle school through high school. Brayden is starting his Sophomore year.
In order to use the Fascinating Education Biology program, you do need to have internet connection. It is not a downloadable program. But what I did really like, as Brayden completes each lesson, we can easily print out the lesson and keep it in his notebook. This allows me to quiz and talk with him about what he just watched.
I really like the break down in coursework by
Fascinating Biology
. If I need to print a lesson, I can. At the completion of each lesson, there is an onlin
e test for him to take. The test does provide instant feedback/score, so he knows what he earned. I am also able to print those pages so that I can include them in his science folder. If your student does not take online tests well, you can print the test also. There is a parent answer sheet you can also print to help you out.
I really LOVE the simplicity of using
Fascinating Biology
.
The only work I have extra is if he is struggling with a topic, I need to sit down and help him out. Also if he needs even more of a visual with a topic, such as an experiment, I do need to do that with him also. I'm not completely hands-off. But all the planning is basically done for me. I just assign him what lessons to do each week. If he is struggling, we re-look at the material. If he is grasping it, we move forward onto the next lesson.
Several members of the Homeschool Review Crew were given the opportunity to try out the Fascinating Education program. See how it worked for them in their homes. Visit the Crew blog link below.