Progeny Press provides study guides for literature books. They have knocked it out of the park again with the one we recently had the opportunity to review, The Bears on Hemlock Mountain E-Guide ($11.99).
Progeny Press has written these study guides, E-Guides from a Christian perspective, so applicable scripture memory and questions are included with each chapter. The mission statement for Progeny Press has caused me to love their materials even more.
"To teach our children to think clearly, to understand literature, and to rely on the scripture for truth and values, and enjoy themselves while they do it!"
It's very easy to get away from remembering to rely on the Bible in the stresses of life. As adults, we forget. So then our children see us not doing it and our children learn from our example. The
Progeny Press
study guides were great to get you back in the habit. While we were working on not only our reading and reading comprehension, there were scriptural reminders about our behaviors to discuss.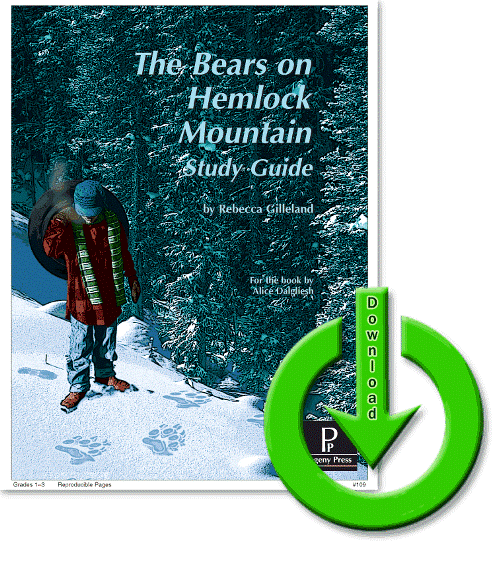 The Bears on Hemlock Mountain, which was written Alice Dalgliesh, is based on a folk tale. Ms. Dalgliesh then added extra details and created a story about an 8 year old boy named Jonathan, who is sent on an errand by his mother to get a pot from his Aunt Emma. He is afraid about bears being on Hemlock Mountain. But his mother assures him that there is not.
After visiting with Aunt Emma, Jonathan falls asleep. When he leaves, he forgets the pot. So he is made even later than he wants to be, and it's now dark outside. Even though he was assured there were no bears on Hemlock Mountain, guess what he encounters, but bears.
Jonathan takes cover under the large pot in fear. But he is saved by his fathers and uncles. Jonathan is able to deliver the pot to his mother, and his uncles are able to go hunting.
The Bears on Hemlock Mountain was written for grades 1 - 4, so early elementary students.
Now that you know about this story (which was new for us), while reading this story, we used The Bears on Hemlock Mountain E-Guide from Progeny Press. This study guide brought in elements of art, science, vocabulary, language arts, and bible study, all of which your student would not even realize they were doing that many subjects all at once.
The E-Guide starts out with a list of suggestions for parents to do, prior to starting their reading of the story. These include looking into the scientific elements that the kids would be learning from the story, including animal tracks and bird songs. Families are also encouraged to work with their kids on the wonderful life skill of being hospitable to others.
For each chapter there is vocabulary to work on, reading comprehension questions, and language arts skills such as foreshadowing. There are Biblical themes also pointed out in each chapter's work, allowing students to see how much the Bible does intertwine throughout their daily lives.
Once you have finished reading the story and working your way through the printable study guide, there are suggestions for you to use after you finish reading the book. Helps parents to really tie up the study. Some ideas include baking cookies, creating a family recipe book, and even other stories that students would enjoy at this age level.
Caty enjoyed reading Jonathan's story and working on the activity suggestions. Of course, the baking was a huge hit.
When you order The Bears on Hemlock Mountain E-Guide from Progeny Press, it does not include the actual story, The Bears on Hemlock Mountain. You will need to get a copy separately, whether it is purchasing it or getting it from the library. But it is a nice story, and great read for beginning readers.
Several members of the Homeschool Review Crew were given the opportunity to review various E-Guides from Progeny Press. Click on the link below to see what other stories they explored, including Macbeth study guide, Charlotte's Web Study Guide, and The Silver Chair Study Guide.